ACCESSING THE MAINTENANCE MENU:
Some meters will have an

orange button

on the back of the display which will bring up the maintenance menu on the meter screen.

If they have an orange button, they should also have a loose keypad which they can lay over the keyboard on the meter door. This will allow them to navigate the maintenance menu.

To run a function, have the user type in the function code followed by "V" to execute (e.g. 97V).
Older meters may instead have a hook that will release the screen, allowing it to swing out from the inside of the door. A small keypad is attached to the bottom of the screen (See pictures below).

Unlatch and swing out the screen, as shown in the pictures below.

Press "F" on the keypad to bring up the Maintenance menu.

Have the user type the function code followed by "V" to execute (e.g. 97V).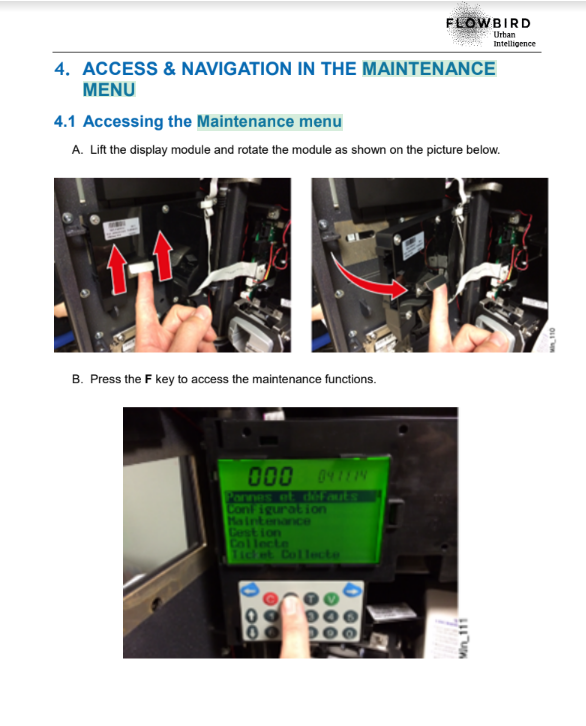 EXITING THE MAINTENANCE MENU:
Newer Meters;
Hit C on the overlay keypad to return to the normal customer menu.
Older Meters;
Re-latch the maintenance screen (if it is the older swing-out style)

Close the meter door. The screen will drop to black after about 30seconds.

Hit the start button and the normal customer menu should appear.
COMMON ISSUES:
The overlay keypad is not allowing them to type in the function codes properly;
Make sure there is no water/dirt/debris between the meter keypad and the overlay keypad, as this can prevent the meter from detecting inputs properly.
They receive "Function Does Not Exist" message after entering the function code;
Make sure they have typed the correct code. Before typing the code, the screen should show 000, and as they type the numbers should appear (e.g. 097). If they have typed the code incorrectly, hitting "C" should allow them to clear the screen back to 000 to try again.